The Frank Frazetta Legacy Collection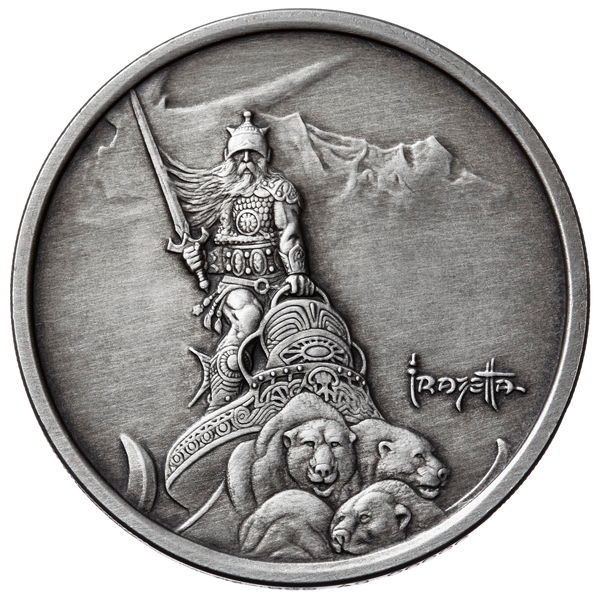 SILVER WARRIOR
Frazetta's Composition Masterpiece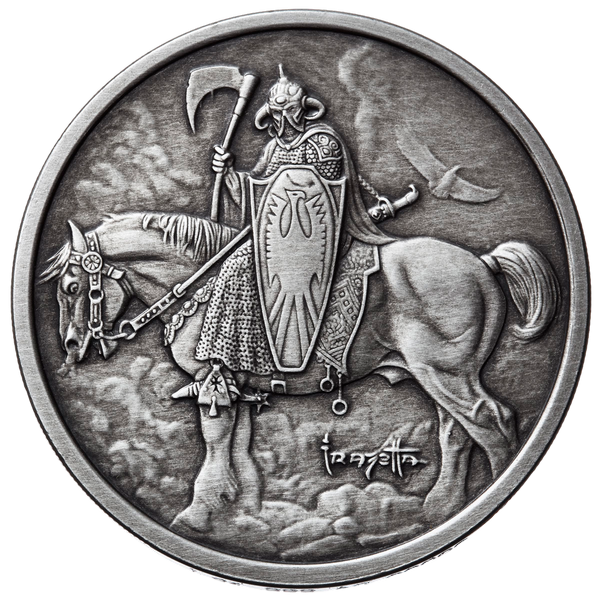 DEATH DEALER
Emblazoned in 999 Silver.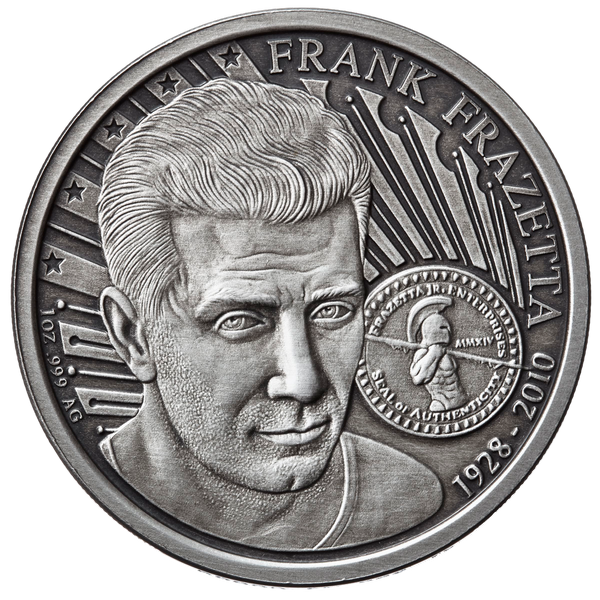 FRANK FRAZETTA
The Greatest Name in Science Fiction & Fantasy in 999 Silver.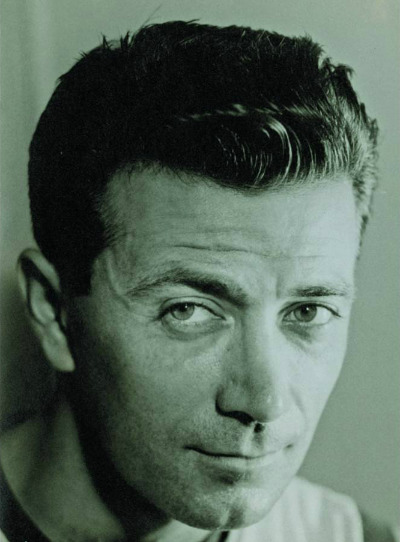 Introducing…
A limited engagement series of coins & collectibles commemorating the life & legacy of American Science Fiction & Fantasy Artist Frank Frazetta.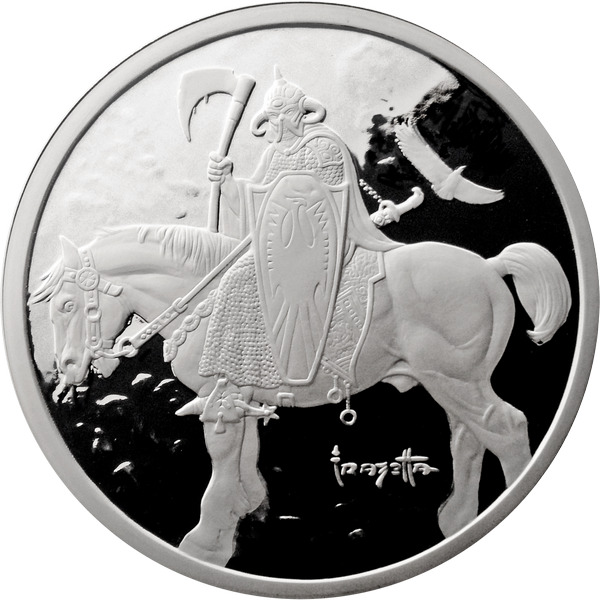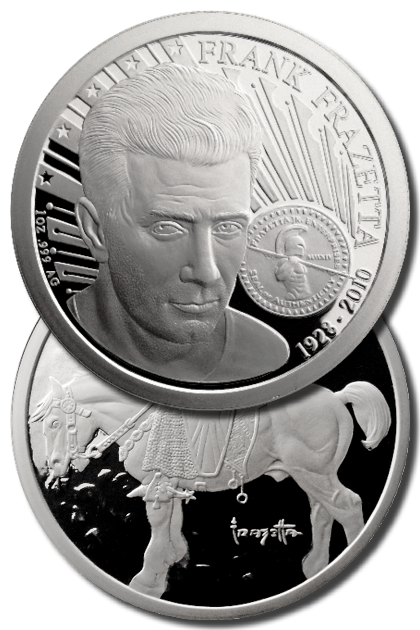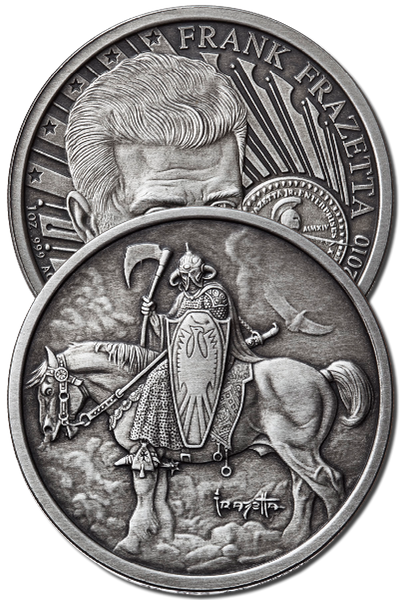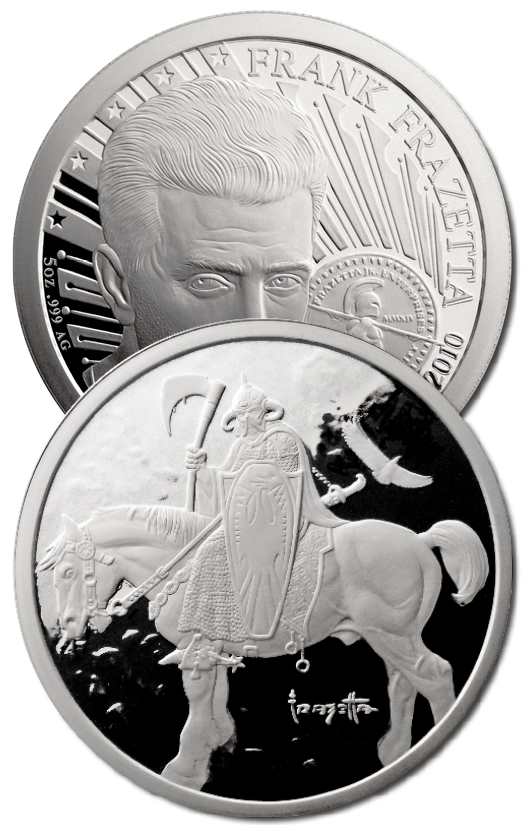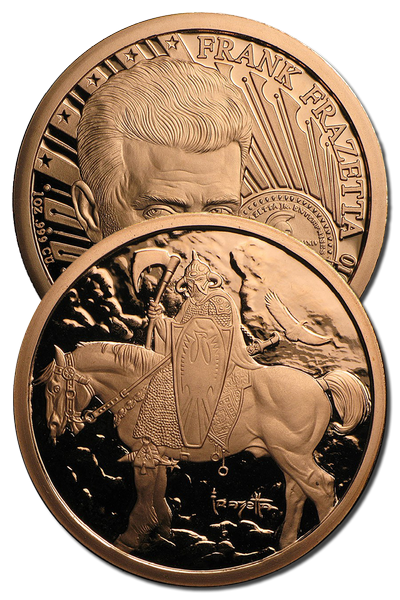 Death Dealer
The Frazetta Collection kicks off with Frazetta's iconic masterpiece, Death Dealer.
Painted in 1973, Frazetta's Death Dealer was originally featured as cover art for the band Molly Hatchet. With its supernatural effect of foreboding terror and finality, Death Dealer has appeared in numerous comics and statues over the years. A full size steel replica standing outside the III Corps Army headquarters building in Fort Hood, Texas.
The coin's reverse features the portrait of a young Frazetta, with wild eyes, looking forward to a bright future.
You can tell by the twinkle in his eye that Frazetta knew what greatness lay before him; this quality drove his confident manner and bold actions as he set the industry's pace for years to come. To the right of Frazetta, a perfectly sculpted version of the Frazetta Jr Enterprises Seal of Authenticity is embedded, featuring the almost-lost image of the warrior from Atlantis.
Available in:
1 Troy Oz 999 Fine Silver (10,000)

1 Troy Oz 999 Fine Silver Antique (5,000)

1 Troy Oz 999 Fine Silver Reverse Cameo (1000)

1 Troy Oz 999 Fine Silver Colorized

5 Troy Oz 999 Fine Silver Proof (2,000)

1 AV Oz 999 Fine Copper Proof (50,000)
Frank Frazetta's most iconic creations explode off the canvas in breathtaking 3D detail, now forever emblazoned in investment-grade 925 silver statues. Striking a perfect balance between art and precious metals investment, each limited-edition solid silver Frazetta statue is hand-crafted in Thailand with old-world techniques, resulting in the most stunning, intricate detail ever cast from solid silver.
With each statue limited to only 1,000 pieces, every museum-quality masterpiece is certain to become the heirloom centerpiece of any investment portfolio, inspiring future generations with Frazetta's powerful imagery, as imagined and painstakingly crafted by a team of experts. And since each piece is built to chess tournament standards, feel free to build a set that will strike fear into the heart of your opponent.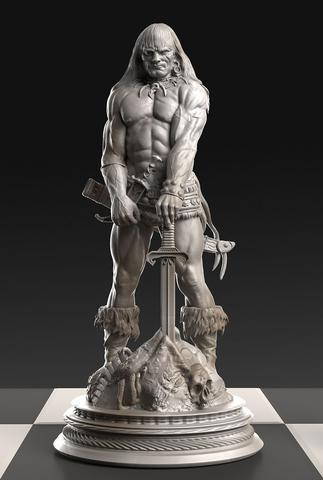 Among the rich and famous, sits millions of dollars of paintings, by the 'grandmaster' of fantasy art – Frank Frazetta. And now, for the first time ever – 6 of his iconic works have been exquisitely crafted into one solid silver chess set.
The Frank Frazetta Legacy Collection is your membership to the most limited edition chess club in the world. It's a unique, private world, where fantasy art geeks rub shoulders with silver investors, chess players and fine art collectors. This one of a kind limited Frazetta statue set has been immortalized in 168 ounces of solid .925 silver and exclusively licensed by the Frazetta Art Museum.
It's silver bullion for your desk, and pop art with class.
While many desire it, only 50 will secure this limited edition collection.
FRAZETTA'S 32-STATUE CHESS SET
INCLUDES: (16) ATLANTIS – (4) SILVER WARRIOR – (4) DEATH DEALER 3 – (4) HUNTRESS – (2) EGYPTIAN QUEEN – (2) BARBARIAN – (64) HAND-CUT MARBLE SQUARES – CUSTOM BOX & CERTIFICATE OF AUTHENTICITY
The Frazetta Art Museum
Nestled on a 67-acre estate in the foothills of the Pocono Mountains, the Frazetta Art Museum is home to hundreds of personal mementos and original works in a myriad of media within its 2,500 square foot gallery. The museum was the dream of Frank and his wife, Ellie, and is curated today as a labor of love by his vibrant family to honor their final wishes:
"to preserve Frank's art and continue the legacy for fans around the world."
"It was Frank & Ellie's Dream..."
Today, Frank Jr and his team at the Frazetta Museum are charged with preserving Frazetta's legacy and providing an inspiring environment for aspiring artists, who can visit the museum, learn and create, merely steps away from where the Master brought his imagination to life.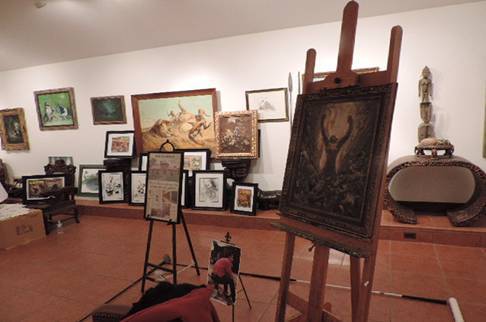 To help offset curation costs and to further ensure the legendary images forged from Frank's imagination live on for thousands of years, The Frazetta Art Museum licensed for production the Frazetta Legacy Collection, emblazoning Frazetta's most iconic images on investment-grade silver, copper & gold coins, statues and other timeless museum-quality collectibles. Each heirloom is painstakingly hand-crafted by a team of masters, determined to capture the spirit of Frazetta's original works in each treasure.
141 Museum Lane
East Stroudsburg, PA 18301
2018 Museum Hours:
Thurs to Sunday, 10am to 4pm
570-242-6180 – Call to RSVP
Home to the largest and most comprehensive collection of Frank Frazetta works and personal artifacts.
Take advantage of this rare opportunity to support the Frazetta Art Museum and own a unique heirloom emblazoned in precious metal for countless generations to enjoy!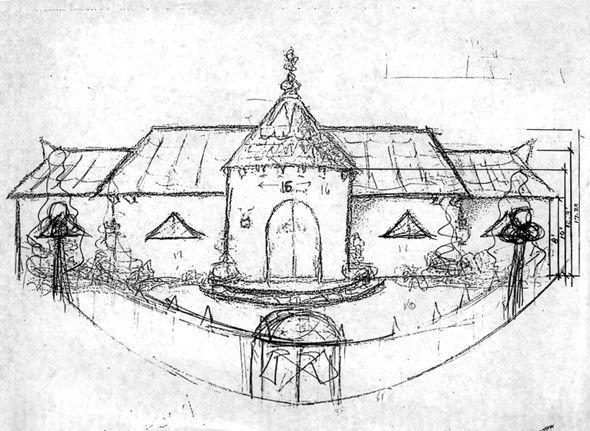 Home is Where the 'Art Is
The original museum was in East Stroudsburg, Pennsylvania in the mid 1980's on the 3rd floor of Frank's 12,000 ft. building. Always concerned that a fire it would make it impossible for fire fighters to access the 3rd floor, Frank's fears were realized when a fire broke out on the lower floors in 1997, closing the museum. Fortunately no artwork was damaged.
Plans to relocate in Boca Grande, Florida followed and Frank purchased a beautiful ocean front complex to serve as his new studio. However, the temperate region and its effects on the artwork, and distance from family soon paved a path back to Pennsylvania.
Taking nearly two years to complete, the new concrete and stucco structure was designed by the Frank Frazetta himself. The architectural, interior floor plan and landscape was done by Frank Frazetta Jr. The Mediterranean and Spanish Revival style building was built 100% fire proof and engineered for climate control to preserve the rare artworks of Frank Sr. No expense was spared.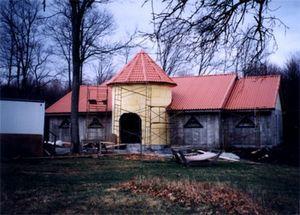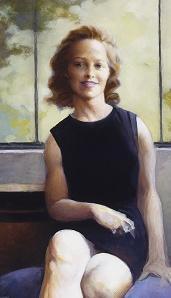 An Intimate Moment with Frank
"An artist is as popular as his fan base and the museum was built as a tribute to them which made it all possible." -Mrs. Ellie Frazetta
To maintain Frank's genius in the most revered light, the Frazetta Art Museum goes to considerable lengths with framing, environment, lighting and narrative positioning of each piece. The result is a profound viewing experience for anyone who is fortunate enough to visit. And more profound is that many of these icons are displayed just a breath away from where they were imagined by the man himself.
The layout is cleverly designed as a timeline of Frank's personal life and career. Visitors are treated to a voyeuristic look at the innate nature of Frank as a complex person, not just a great fantasy illustrator. Visitors get a rare meeting with Frank's genius, where it began in the 1930's and chronologically follow his journey from crayon to Conan and beyond.
Beginning with some of his earliest known pieces dating back to 1933, much of Mr. Frazetta's private memorabilia is also available for viewing and displayed within the time frame it was originally used such as his baseball paraphernalia from his teenage years, the classical records that inspired his greatest oil paintings, his extensive camera collection and golf clubs.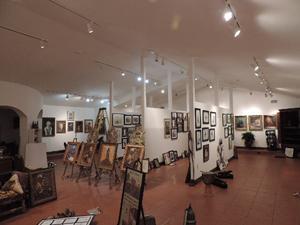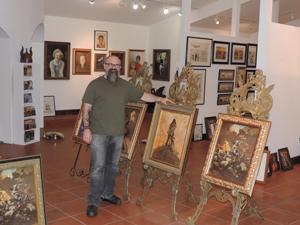 Amazing, Surreal, Breathtaking
Many first time visitors to the Frazetta museum are overwhelmed by the original art. At the Grand Opening comments were left such as: "I was amazed at the little details in Mr. Frazetta's originals that is lost in print. In some paintings you an actually see the underlying pencil lines. In other the subtle pinks, greens and hi-lights of the painted skin tones made my mouth drop, literally. The very thin brush strokes in both the oil paintings and in the pen and inks are incredible."
"I was truly blown away by the originals" expressed another guest.
Another patron also wrote "Once you take that left turn and see the gargoyle on the stone pillar that says 'museum', you have left the real world and entered something you may have imagined in a fantastical daydream".
The Frazetta estate is a surreal, sprawling wonderland with a lake and wrought iron benches to compliment the totally green surrounds, and fantastical world housed within the complex.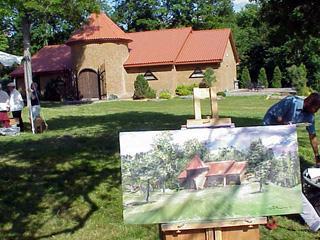 Preserving A Legacy
"I wanted to show my gratitude to my father for all he did for me. The museum is the most informative display of my father's career and personal life that has ever been made available" – Frank Frazetta Jr.
The Frazetta Art Museum is also responsible for the world-class handling, storage and security of each piece. Just like the Smithsonian, the Frazetta Museum is not merely a wall of art, but a steward of art preservation, reducing the need for restoration as time passes.
To help offset curation costs and ensure Frank's legendary images live on for thousands of years, The Frazetta Art Museum offers limited, and heavily scrutinized licenses to the world's most trusted artists and producers. Heads or Tails Coins and Collectibles is honored to be one of Frank's chosen.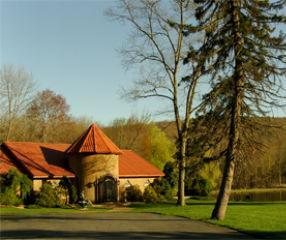 MEET THE ARTIST
American Science Fiction & Fantasy artist Frank Frazetta (1928-2010) has long been considered one of the most successful and influential artists of the 20th century. Inspiring a generation, his iconic images include Tarzan, The Hobbit, Conan the Barbarian, John Carter of Mars, Buck Rogers, Vampirella & many more! Over his lifespan and career, his work was widely sought by Hollywood producers, including George Lucas & Clint Eastwood, who commissioned works from him for several movie projects.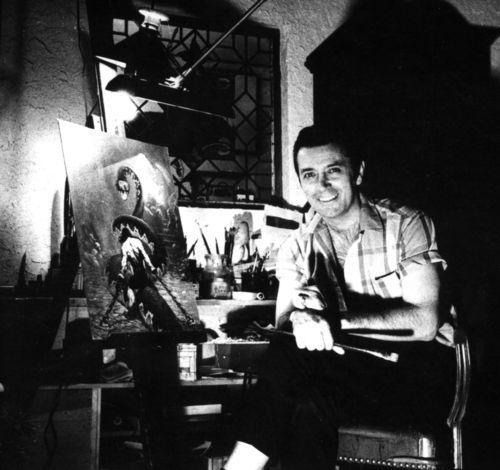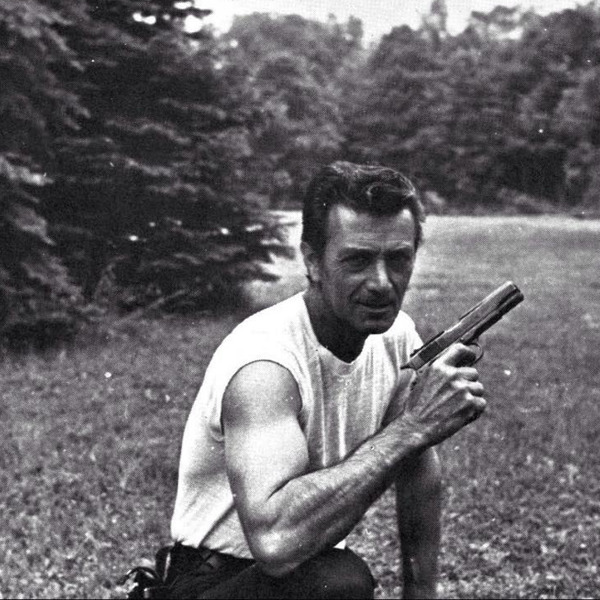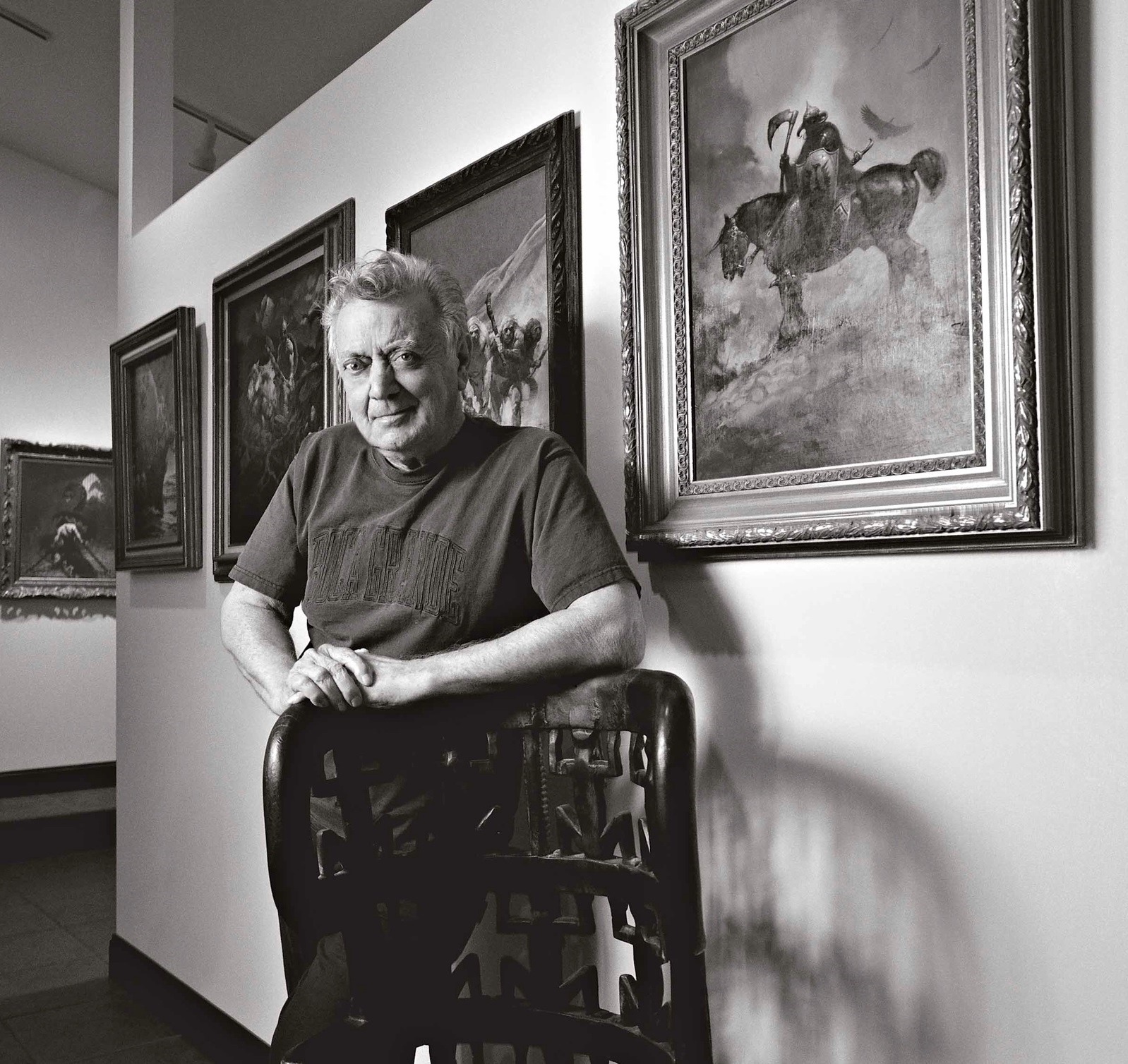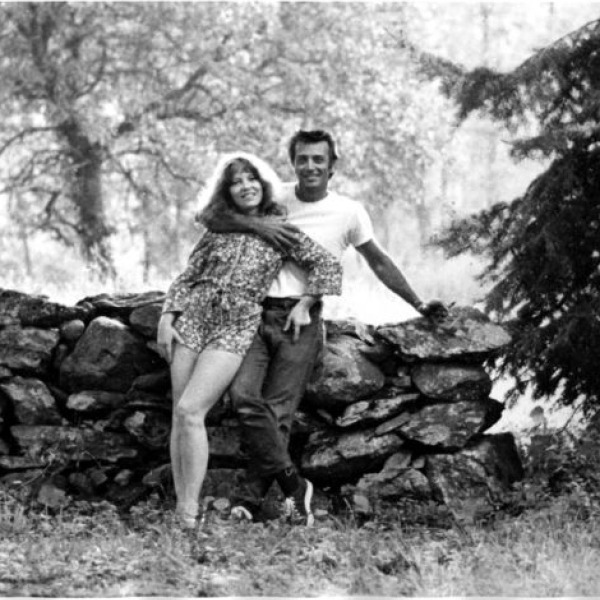 Frank Frazetta was the master of Modern Fantasy Art. As the original artist behind JR Tolkien's Lord Of The Rings, his images still influence creativity and excellence today. He was a visionary in the Sci-fi and fantasy art genre. And he gave an emotional exactitude never seen in other artists, as seen in Wild Ride. Frank never misses a stroke on her perfectly composed buttock, masterfully completed with cellulite, and redness from riding bare back.
While other artists created characters with blank or contrived faces, Frank captured the eyes of his subjects with precision. Stare into them long enough, and you'll catch yourself looking over your shoulder, or drifting off to imagine what they see. Frank's work went beyond even dreams or visions; it was as though he walked straight into history and painted what he saw with chilling accuracy. Like the $400,000 oil painting, Bran Mak Morn, and the bloody battles between the Nordic and Neanderthal.
He broke the mold of traditional illustrators and set his own standards. No one transfers more life to paper or canvas than Frazetta; this is his magical gift. Frazetta is able to communicate the vitality, energy, humor, mystery, and enchantment of life better than any other artist.
Frank was masterful in composition and detail. From the tiniest cluster of mushrooms, Frazetta's unique eye for detail presented a new surprise and sensory gift each time a fan would look upon the art. From animals to nudes to fairies to exotic vegetation, everything is alive! The area between where life begins and art ends was blurred out of existence. For Frank's art was a perfect manifestation of his heart, bursting with life, intensity and passion.
Frazetta explores the beauty of simple gestures: a look, a glance, a smile, a certain attitude or pose. His brush dips directly into his imagination. The original energy of his inspiration is immediately conveyed via line and color without the diluting reliance on models, studies, swipes or photo reference.
Intricate colorations and subtle blended tints give emotional depth to each distinctive scene. The emotional expression born from color is all part of Frazetta's mastery. And let us not forget the Frazetta line. The envy of countless artists, the line is almost superhuman in its delicacy and fluidity, it is always correct, elegant and pulsing with energy.
Frazetta often used the pyramid formation in his compositions, as in 'Silver Warrior'. This adds incredible strength and majesty, yet there still remains a poetic fluidity to the very dramatic scene.
An artist often strives for a lifetime to produce one lasting image, yet Frazetta did it routinely. There was simply no alternative. Excellence, intuition, passion and skill came authentically. Great art was just a natural side effect of being Frank.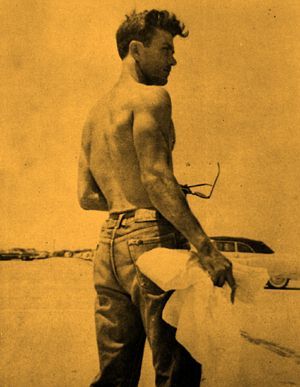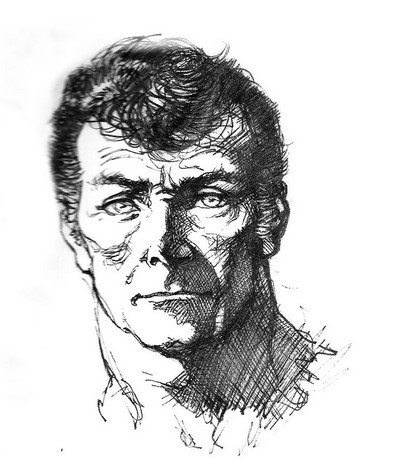 The Complete Biography Of Frank Frazetta
By Frank Frazetta Jr.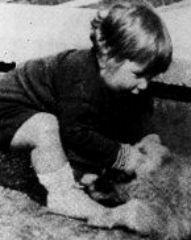 1928: The Birth Of A Modern Art Legend
Frank Frazzetta (he would later drop the second 'z') was born on the 9th of February 1928 in Brooklyn, New York. He was the oldest of four children and the only boy in the family.
Before he was three, Frank discovered the wonders of drawing, selling his first crayon drawing to Grandma for a mere penny. Her interest and encouragement spurred Frank to continue. By the time he was 5 years old, Frank was drawing better than ten year olds, astounding teachers.
Frank began creating his own comic books around the age of six. These were intricate, labor-intensive colored pencil stories with original characters like 'Snowman' and 'The Red Devil & Goldy'. Frank's sister would often take his comics and trade them to other kids for their store-bought issues of Famous Funnies.
Frazetta's artistic ability wasn't a secret to his elementary school teachers. "Christmas, Easter, and Thanksgiving were my big days", he remembers, "I guess I drew more Santa's, bunnies, and turkeys on blackboards than anyone could count".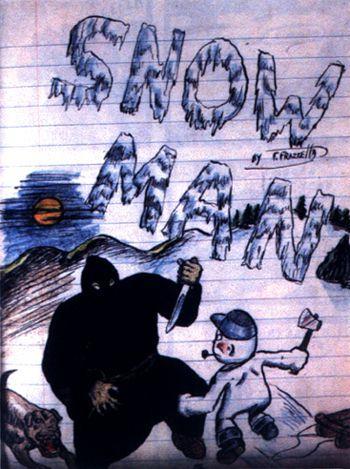 Frank, The Child Prodigy
By the time Frank was eight, one of his teachers approached his parents and persuaded them to enroll him in The Brooklyn Academy of Fine Arts.
In a class with thirty adults, Frank recalls that first day fondly, "I still remember the Professor Michele [Michael] Falanga's look of skepticism as I signed in. He was rolling his eyes and you could almost see the thought balloon over his head, 'Oh no! Not another child prodigy!' He sat me down with a pencil and paper and asked me to copy a postcard featuring a group of realistically rendered ducks. When he returned later to see how far I had progressed, he snatched up my drawing exclaiming, 'Mama mia!' and ran off waving it in the air, calling everyone over to look at it. I thought I was in some kind of trouble."
Falanga was a fine artist with some Italian renown. He was impressed with Frazetta's natural ability and believed in his potential. "He died when I was twelve," Frank explains, "right about the time he was making arrangements to send me off to Italy at his own expense to study fine art. Falanga would look at some of the comic stuff I was doing and say, 'What a waste, what a waste!' You should be in Italy and paint the street scene and become a very famous fine artiste!' And that didn't thrill me!"
Meanwhile, in Elementary School, Graduation Day he was awarded the Art Medal and a pride filled, flattering speech from the principal.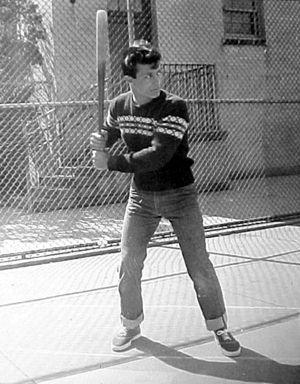 The 1940's: Baseball, Comics and Human Anatomy
Through his teens, Frank continued to draw and paint. But he began slacking off due to his discovery of girls and baseball. He set several high school baseball records, and eventually caught the attention of a scout for the New York Giants. Frank was offered a position on their farm squad with a good prospect of moving up to the major league within a season, but he turned them down.
"I was involved with a girl at the time," Frazetta says a little sorrowfully. "And going down to Texas and sweating it out in the minors for a year didn't seem very appealing. You have to remember that at that time athletes weren't making the money they do today. They bussed you back and forth and it was just a big disgusting hassle. I remember that traveling to another state seemed like going to the end of the world, so I told them, maybe next year. Time went by and before I knew it I was too old. It was just my way of letting time make the decision for me. If I have any regrets it's that I didn't turn pro. If I was in my twenties and had it to do over - today, at today's salaries - you better bet I'd do it."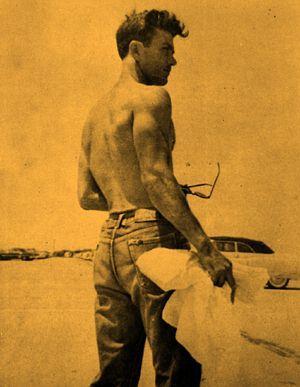 A Lover And A Fighter
Frazetta's childhood years were an odd mixture of influences. He loved comic strips by Hal Foster, E.C. Segar, and Milton Caniff but was exposed to and appreciative of opera and the fine arts.
The neighborhood where he lived grew progressively worse. The Sheepshead Bay area of Brooklyn was not the place to admit you were and artist. Gang wars and violence were common everyday occurrences and Frank found himself an active participant but never a member of any gang. Fights were an everyday occurrence. Frank held his own against any challenger and soon gained a reputation of one to be reckoned with.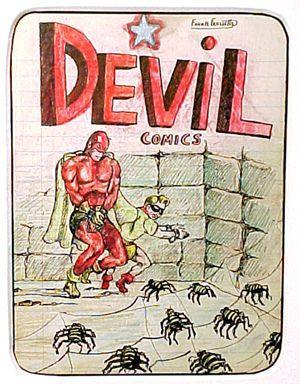 A 'Comic Genius'
"When I was about 15," Frank recalls, "someone in my family introduced me to John Giunta. "He was a professional artist who was working for Bernard Bailey's comics publishing company and he really wasn't a very personable guy. He was very aloof and self- conscious and hard for me to talk to, but he was really very talented. He had an exceptional ability, but it was coupled with a total lack of self-confidence and an inability to communicate with people. Being around him really opened up my eyes, though, because he was really that good. He had an interesting style, a good sense of spotting and his blacks worked well. You can see a lot of his influence even today in some of my ink work."
Giunta liked Frazetta's homemade 'Snowman' comic and persuaded Bailey to publish a revised version in Tally Ho #1 in 1944. "I did the drawing and Giunta inked it, slicking it up to look like their other comics", Frank says.
Frank's First Gigs
After 'Snowman' was published, Frank worked briefly for Fiction House Comics, cleaning up panels and erasing underlying pencil art for Graham Ingels, Bob Lubbers, and George Evans. "They canned me after six months", Frazetta says. "They told me I had potential, but there wasn't a lot for me to do. So I went over to Standard and, lo and behold, there was Graham Ingels, who had just quit Fiction House and was working as their new art director", Frank remembers. "He had always encouraged me so he went out on a limb and gave me a feature, 'Judy of the Jungle.' I did a terrible job. Graham felt that it would be a great shot in the arm and really get my career going, but the owners said, 'The kid's not ready.' Which was probably true."
Frank was a quick study with an obvious, if unrefined talent, and Standard employed him as an apprentice. He drew backgrounds, ruled borders, and cleaned up other artists' pencils.
Human Anatomy 101
Graham Ingels would become famous several years later for the horror strips he signed 'Ghastly' for EC Comics, but chronic alcoholism cost him his art directorship with Standard and was replaced by Ralph Mayo. Frank recalls, "When Ralph took over he pulled me aside and said, "Frank, your stuff is great, but you need to learn some anatomy." When he was in school with Falanga the emphasis was on feeling, not on the nuts and bolts, so he really didn't understand what Ralph meant by anatomy. "Ralph handed me an anatomy book and when I went home that night I had decided to learn anatomy."
Frank started with page one and copied the entire book in one night, from the skeleton up. "I came back the next day like a dumb kid and said, 'Thank you very much, I just learned my anatomy.' Of course Ralph fell over and roared with laughter. 'Frankie, you silly bastard! I've been studying for ten years and I still don't know anatomy, and you went home and learned it last night?!'"
But he had. Frank had the ability to absorb things and he saw an improvement in his work right away. It amazed Ralph and that meant a lot to Frank. From that point on his work developed rapidly. "I started to do things with figures that made sense".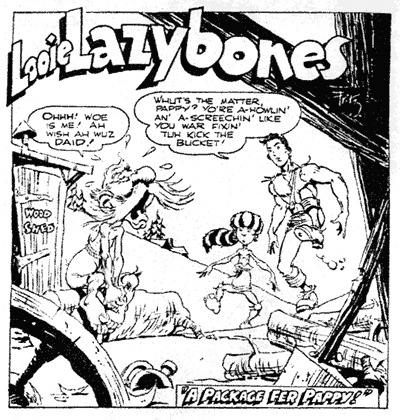 Looie Lazybones, Li'l Abner and Disney
Frank was finally able to stretch his creative legs in 1946 when Prize Publications gave him a chance to solo in Treasure Comics. This was definitely a far cry from Tally Ho and he felt the pressure to draw a story that might earn him some well-deserved merit. Standard Publications were also looking for someone to help draw their funny animal books. In consideration of his work for Prize they hired him to do text illustrations for Goofy Comics.
Between the years 1946 and 1950 he worked on 15 different Standard titles, such as Barnyard, Coo Coo, Happy and Supermouse. But once they realized Frank's potential, they offered him a nine-page story for one of their action/adventure titles, Exciting Comics #59. They also gave him the first of the 'Looie Lazybones' features in Thrilling Comics.
These stories were credited as the ones that caught Al Capp's attention and eventually resulted in Frazetta ghosting the Li'l Abner newspaper strip.
The majority of Frazetta's early comic work at this time, signed with his nickname, "Fritz," were humorous stories or spot illustrations for short text pieces. These charming and whimsical drawings exhibited a great deal of animation and caught the attention of the Disney Studio. "I still have the letter," Frank says. "They wanted me to come out to California. I was excited and flattered but I was just a kid. There was no way I could have left Brooklyn."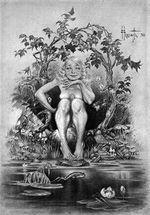 Cowboys and Indians
The period of 1948 through 1951 was undoubtedly the most productive in Frank's comic career as other companies were introduced to his work. Not only did he continue working for Standard's humor and adventure titles, D.S. Publishing offered him a seven-page story in Outlaws #9. This was the first of many western stories on which he would contribute. The publishing company Magazine Entertainment contacted Frank to help on their 'A-1' line of books. The popularity of Trail Colt quickly led to the production of another western title The Durango Kid. This book introduced Dan Brand the 'White Indian' and Tipi his Indian sidekick. It continued well into 1952 with sixteen issues. This particular run of stories best illustrates the growing development of Frazetta's early drawing style.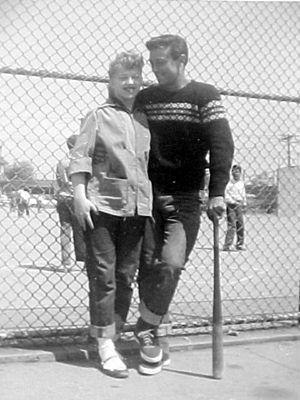 The 1950's: Finding Ellie, Creating Comics, And Losing Frank
When Frank started working for Magazine Enterprises and National (now known as DC Comics) he graduated to the adventure titles and drew stories for Durango Kid, Manhunt, Adventure Comics, and Blackhawk. His covers for Ghost Rider received tremendous recognition and in 1951 Magazine Enterprises gave Frank the go-ahead to create his own comic. It was called, Thun'da. "I came up with this Tarzan-like character who gets trapped in a lost world," Frank explains. "They brought in Gardner Fox to write the script based on my idea and the first story in the book followed my plans pretty closely. Then the editor, Ray Krank, had Fox take everybody out the prehistoric setting by the end of the third story in the book and ruined the entire concept: they turned it into just another cardboard jungle comic."
Thun'da #1, from 1952, was the only complete comic book Frazetta ever drew. In the same year he began drawing his own newspaper comic strip, Johnny Comet. McNaught Syndicate had seen advance pages from Thun'da and offered Frank the strip, albeit his lack of enthusiasm for the subject. But it would be his own comic strip! Frank remembers thinking, "Jeez, I'll have a steady job. I'll make a lot of money." Johnny Comet (changed later to Ace McCoy) never really found an audience and was canceled after a little over a year.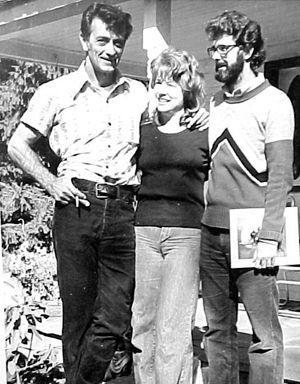 Catching The Eye Of George Lucas
Frank quit Magazine Enterprises after they sold the rights to the character to Columbia Pictures for a serial. He had created Thun'da under the comic industry's standard work-for-hire agreement, so he never received additional payment for the characters and art he had created. Bob Powell took over as artist on the comic from #2 and stayed with it until the title was canceled with #6. The first issue has become a classic and considered to be the best year for Frank as a comic artist.
Frazetta ghosted a few weeks of Flash Gordon for Dan Barry and tried to sell the syndicates several other strip ideas like Ambi Dexter, Sweet Adeline, Nina, and Tiga. He was unsuccessful in selling any of his ideas.
War was raging in Korea and the prospect of being drafted was a daily worry, yet the early 1950's were an invigorating, fun-filled period in Frazetta's life. He worked as much or as little as he pleased, producing a memorable stack of art for E.C., Toby Press, and Prize Publications.
His Buck Rogers covers for Famous Funnies are considered some of the finest comics work ever published. Many prominent filmmakers have cited them as a visual influence on their movies. These covers overwhelmed George Lucas, who has claimed they were the inspiration for the Star Wars Saga.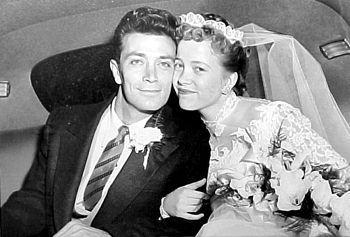 Finding Ellie
Frank was far from a workaholic. He enjoyed life too much to be chained to a drawing board and he made a point of playing baseball everyday. He enjoyed hanging out with friends like Nick Meglin, Angelo Torres, and Roy Krenkel. Handsome, muscular, and charismatic, Frazetta was popular with women and he had a string of intense romances. In 1952 petite seventeen-year-old Eleanor Kelly caught his eye and his days of jumping from one relationship to the next came to an end. "I sensed that she would be forever loyal and I never ever had that feeling about any other girl. I'd been involved with", Frazetta reveals. "Sure, she had most of the physical attributes I looked for in a woman, she was beautiful and athletic. But beyond that she was very sharp and alert and pert and she knew a lot of things I didn't know."
Ellie was the perfect foil for Frank, matching his powerful personality with one that was quietly tenacious. "I'd sit for hours watching him play ball," she remembers, "because we couldn't go out until his games were over. I didn't mind. I talked him into buying a motorcycle because my old boyfriend had had one, and Frank and I would go riding when he was finished." After four years of dating they were married on November 17, 1956.
Losing The Frazetta Edge
In speaking about his work on Li'l Abner, "I shouldn't have done it," Frank confesses, "but I was lazy. All I could think of was that I loved to tell stories and do comics and Al Capp came along and made me an offer I couldn't refuse. The pay was wonderful and it took me only a day to pencil his Sunday page and I had the rest of the week off! What more could I ask for? On a couple of occasions I went up to his Boston studio and he paid me $100 a day, which was really big money back then."
Frazetta worked for Capp for the better part of eight years, burying his own style under that of his employer.
When Capp attempted to cut Frazetta's salary in half in 1961, Frank angrily quit, believing that he could take up his comic book career where he had left off. "Because of Capp's strong style of drawing, I had all but lost all the things I had learned and developed on my own", states Frank. "I had to get away." Frank Jr recalls, 'Even after a year away from Capp, his own work looked awkward'. Frank then went on to work on a series for Playboy Magazine titled Lil Annie Fannie.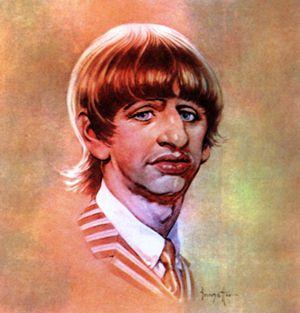 The 1960's: A Troubled Artist Makes A Fantasy Comeback
When Frank left Al Capp's studio in early 1961 he thought it would be no problem to land another steady job. And so, with portfolio in hand, he went searching. But it seemed his work had become poison to any publisher he showed it to. His best stuff was rejected as being too old style. He honestly believed Capp had blacklisted him, because of his sour leaving.
This time in Frazetta's career is best shown in the brushstrokes of his 'Self Portrait' (1962). It perfectly captures the look of the troubled artist at the time. The story goes that he painted it after another exhaustive day of trying to find work.
He wasn't completely out of work though. There were companies that found his talent quite useful. For instance, Midwood hired Frazetta to illustrate a few of their spicy novels.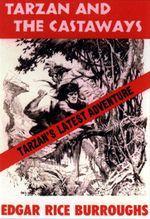 Tarzan, A Childhood Dream Realized
Finally, the slow trend ended in 1963 when Frank's best friend Roy Krenkel introduced him to paperback covers. He started with Ace Paperbacks doing a series for Edgar Rice Burrough's novels.
It was also his first official work on one of his favorite characters, and a childhood dream, 'Tarzan of the Apes'. The public response was overwhelming and paperback firms started noticing. United Artists Film Studios had Frazetta do the poster for What's New Pussycat after noticing the caricature of Ringo Starr on the back cover of Mad Magazine. Frank received $4000. A whole year's pay earned in one afternoon! The young artist was on his way!
From 1963-1965 Frazetta produced 25 covers and 22 interior illustrations for Ace. Frank worked on the cover for The Mad King published in 1964. He enjoyed the work so much that when it came time to hand over the art for a reprinted 1970 edition he reproduced the entire painting instead.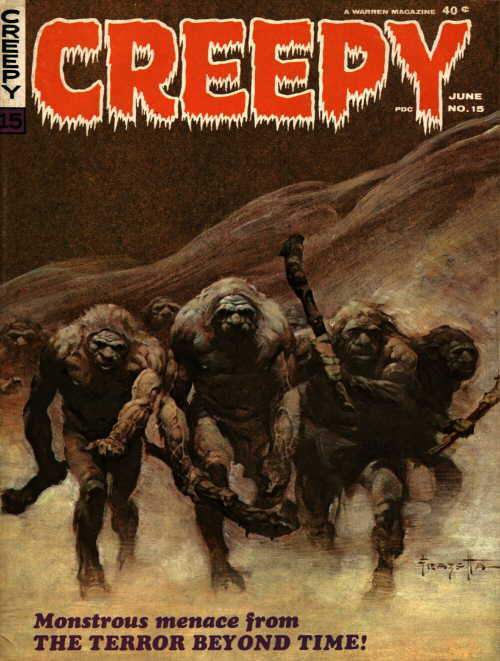 A Creepy Feeling
In 1964 Frank joined Jim Warren's Publishing Company, which provided total freedom for Frank to utilize his talents to the fullest. It was for Warren he created the art for Vampirella, Creepy and Eerie.
"I told Jim Warren, 'Look, be prepared, because I'm going to shock you from time to time'– and I did," Frazetta remembers. " But he didn't care what I did–'Just do it, just bring it in!' But then I did that horizontal painting, 'Sea Witch,' and Jim almost died: 'Frank! What did you do?! How are we going to print this? We'll have to crop it and go close in on it.' I said, 'Don't you touch it.' He printed it horizontal, all on the cover, and the response was enormous, in spite of the fact she was very tiny."
While the perspective of his covers for Warren remained fairly uniform, Frazetta was able to experiment with content and color: his painting for Creep #15 is a prime example of how he was able to convey a sense of horror with a limited, non-traditional palette and an unusual subject matter.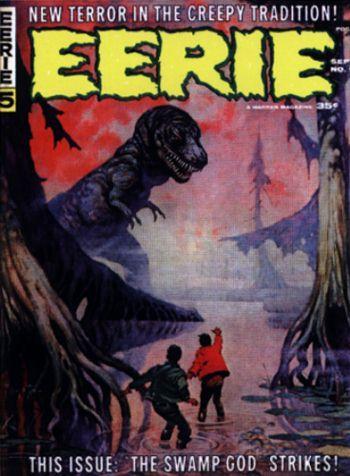 Eerie
The run-away success of Creepy made a companion magazine inevitable. In order to protect the title of Eerie from his competitors, Warren cobbled together a first issue – comic book-sized with a black and white cover– and rushed it into limited circulation. With the title identity secured, a full-sized second issue of Eerie was released in 1965. As with Creepy, Frazetta had creative freedom. Interested in dinosaurs, he created a misty encounter with a T-Rex. Many times editor Archie Goodwin would write a story based on the magazine's cover, and this painting for Eerie #5 was no exception.
The brush and ink technique he used in the pages of Creepy caught the attention of Canaveral Press. The goal of the publisher was to produce a series of Burroughs reprints in a high quality format. Frank's illustrations for Canaveral Press are considered by many to be among his finest works.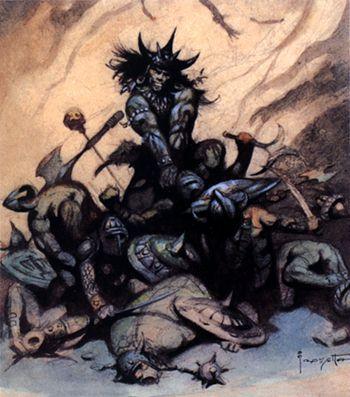 Creating Conan
His paperback work continued sporadically through 1966 with just a handful of contributions, but this was by no way a failing in popularity.
Lancer Paperbacks picked up Robert E. Howard's Conan series, and it was Frank they wanted for the cover art. When Conan hit bookstands, they became a household name and one of the greatest selling series in history, upwards of 10 million copies. Many people bought the books just for the cover art. The work Frank did for Lancer was far greater quality than the work provided for Ace. Suddenly he was being offered more money per cover and he was allowed to keep the originals, unlike Ace.
Frazetta's portrait of Howard's character was menacingly unique; a composition that snarled its animal magnetism and an audience accustomed to sterile Steve Reeves-flavored interpretations of sword and sorcery characters. With a single painting Frazetta defined the look for an entire genre.
Because his covers sold books, Frank was more selective about the material offered to him. He retained ownership of all original art and permitted only first printing rights. This started a whole new trend in the paperback industry.
The Final Farewell
"I liked Warren," Frazetta remembers. "He was very amiable, a lot of fun... I painted for him because I loved working for a larger format - and he stayed off my back. I guess I always had a pretty good time and I think it shows in the art."
The grim visage of The Executioner (1967) was the last painting Frank would do for Warren for several years. A flourishing career in the book and advertising industries kept Frazetta's schedule full. Over the course of their 12-year relationship Frank produced some of his most exciting work and influenced several generations of young talent. At the same time, James Warren's comics achieved their highest sales when they featured Frazetta covers.
"I don't actually remember why I stopped doing paintings for him," Frank admits. "I didn't have a falling out with the guy or anything. I guess it was partly due to the fact we were moving to Pennsylvania and I wouldn't be able to get into the city anymore. Also, by that point I was doing movie posters and getting paid pretty big money. Even though I enjoyed doing that material, meaning anything I wanted to, he was only paying about $250. I was having fun and producing some nice paintings, but the others were paying me anywhere from $1000 to over $10,000 for commissioned work. I had a family to support and bills to pay so I guess I couldn't justify continuing to work for Warren."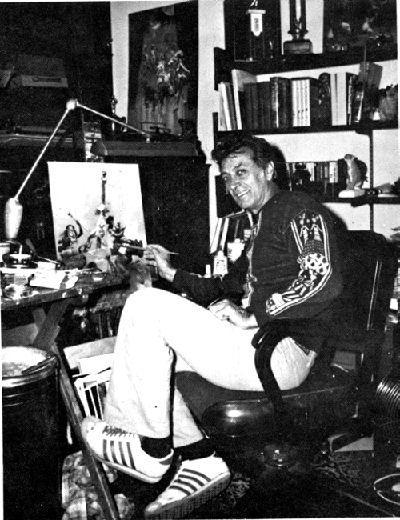 The 1970's: Silencing Critics
Frazetta obviously took a tremendous amount of pride in his paintings for the Conan books and the appreciation he received from Lancer spurred him to new levels of excellence. "Although I have enjoyed illustrating the works of Edgar Rice Burroughs, I find them a bit slow and Victorian and the fans are too prone to condemn the artist if he hasn't been faithful to the text. I much prefer illustrating the tales of Robert E. Howard. They are much stronger in mood and narration than those of Burroughs and allow a wider range of illustrative interpretations. As St. John is remembered for Edgar Rice Burroughs and Tarzan, I would like to be remembered for Robert E. Howard and Conan. I feel a certain sense of loss that Howard isn't alive to appreciate what I've done with Conan."
The series' editors, de Camp and Lin Carter, were dismissive when discussing the correlation between the covers and the revived popularity of Howard's work –complaining that Conan needed a haircut or that he wasn't very handsome. This unwarranted sniping from jealous editors would eventually sour Frank's feelings about Howard's work, but there's little doubt of the enormous impact these images had on the readers, the publishers, and the artistic community alike.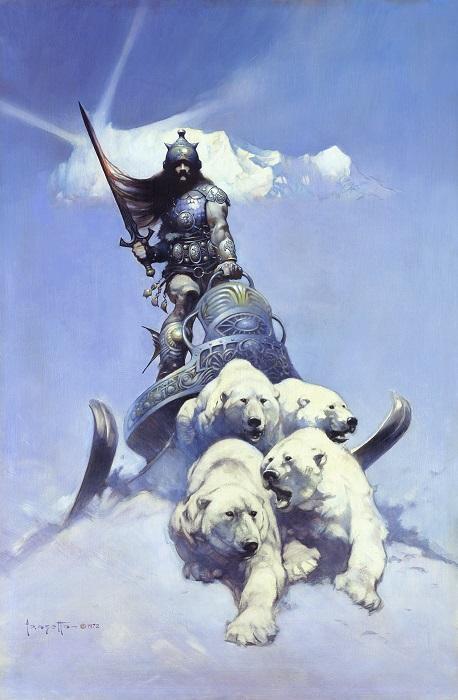 Death Dealer And Silver Warrior
His cover work continued well into the seventies when Ace decided to re-enlist Frank to provide covers and frontispiece illustrations for another reissue series of Burroughs novels. This time though Frank kept the originals.
In 1970 Doubleday's Science Fiction Book Club embarked on an aggressive program of reprinting Edgar Rice Burroughs' interplanetary adventures. Naturally, Frazetta's phenomenally popular covers for Ace and Lancer made him the only logical choice to illustrate the series including his well loved piece, A Princess of Mars.
In 1974 Ian Ballantine approached Frank about producing a book on Frank's art. The book was a blockbuster and went into six printings. There were four volumes available, with over a total of a million copies sold. Three calendars were produced and the Poster Business had grown to over 100 illustrations. Around this time, Dell Books also hired Frank. And it was for Dell he painted two of his most famous pieces - Death Dealer for Flashing Swords #2 and Silver Warrior, for Silver Warriors. These two pieces would be the gag in critics' mouths, who had come to believe Frazetta was washed up, and old news.
Frank then moved on to Warner Books to provide seven covers for their company, one of which was later turned into an album cover for Molly Hatchet.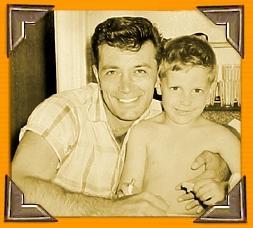 Frank, The Family Man
Although Frank and Ellie were quite comfortable in their long Island home and were keeping busy raising their four children, they moved back to Sheepshead Bay, Brooklyn to be closer to family. While there, Ellie had saved some money and taken a gamble by starting a small business called Frazetta Prints. It consisted of just 5 posters of some of Frank's early work. She worked diligently with a few distributors to get Franks artwork into the public eye.
While living in Sheepshead Bay for only 1.5 years, Frank longed for open space and privacy. So Frank decided to set out and fulfill his longtime dream of an old farmhouse and lots of land.
A Realtor in Stroudsburg, PA had the perfect place, with 67 acres, and a pond. But it was run down and worthless. But Frank wanted to look anyway. He always believed, you can always fix or replace a home, but there is no substitute for land and privacy. He immediately fell in love with it. The asking price was one Frank could afford, but someone had already put in a bid at just $500 less than the asking price. But the offer was refused and Frank secured the property. It is this property that became the proud site for The Frank Frazetta Art Museum, as we know it today.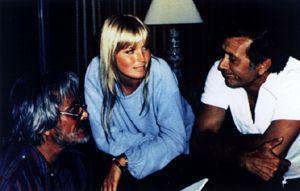 Frankie Goes To Hollywood
The decade of the 80's began auspiciously with an invitation by Ralph Bakshi to come to Hollywood and co-produce a new animated film based on Frazetta concepts. Bakshi was a longtime fan and admirer of Frank and always thought his art should be seen on the big screen. He accepted Bakshi's offer and moved to Hollywood. They hired a team of animators to draw and paint with live performers so that select scenes could be rotoscoped. Frazetta wanted the film to feature realistic and believable action. He did many of his own stunts, after being told by professional stunt men it couldn't be done.
Frank sculpted several clay models of the key characters for use by the staff. He also painted a large oil for the movie poster and a number of stunning pencil illustrations that were used in the opening sequence of the film. Frazetta worked furiously on this project night and day. Sadly, due to poor marketing and distribution irregularities, it was not the success he had hoped for.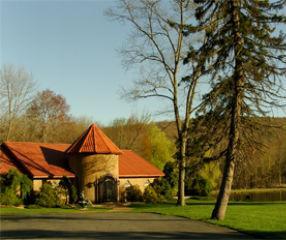 Building A Museum
Undaunted by his Hollywood disappointment Frazetta returned to his estate in Pennsylvania. He purchased a 12,000 sq. ft. building in downtown East Stroudsburg. This would become the first site of the Frazetta Art Museum. Frank repainted a new version of the standing Masai Warrior oil for the museum, dominating an entire wall. In April of 1985 the new museum opened with much fanfare. The museum became a kind of mecca for the many fans who would travel long distances to see the many marvelous masterpieces on display.
"It was all Ellie's Idea", Frank explains. "We were always getting calls from the fans asking if they could come see the originals. The best we had done through the years was to have some exhibits at various conventions, but that got to be a risky hassle. We did the museum for all the people who have had fun with my art over the years. It wasn't for profit. If I wanted to make money I would've sold the originals. My joy is in showing the work."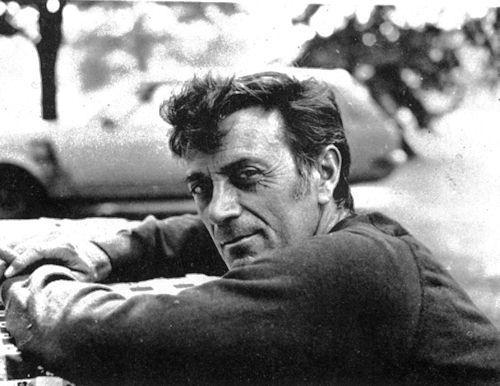 A Health Crisis
The 1980's also brought health problems to the vigorous artist. "The first symptoms appeared about 1986", Frank recalls. "I had three jobs going on at the same time and I was burning the midnight oil. Coincidentally I had bought some really inexpensive turpentine, real junk. The fumes were so terrible that it probably screwed my thyroid up. Nobody's quite sure what makes a thyroid malfunction or quit or go hyperactive, but they certainly know chemicals can affect it. I was working for about two weeks with this turpentine that just permeated my studio: my wife and kids wouldn't even come into the room it was so bad. But good ol' Frank just kept plugging away. 'I'm tough, this won't affect me.' Around the time I was finishing the jobs I suddenly got this eerie, insidious taste in my mouth. It was almost as if Death had entered."
Painting became more difficult and Frank experienced dizziness, debilitating pain, extreme weight loss and uncontrollable anxiety. Frank spent eight long years with doctors trying to find a solution. He thought he would die. But fate was to deal him a different hand.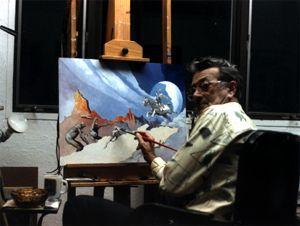 In His Right Mind Again
During his illness Frank speaks of his lost artistry, "I suddenly had no more of those wonderful images running through my head. And even though I could sit there and sort of work out a composition and a design, the actual application was gone. I noticed when I used the brush, nothing happened. Everything was flat. There was none of that spontaneity, none of that courage to site there and ride it out and let things happen. 'What have I lost?' I thought it was because I was getting older and I knew that I'd lose some of my skills. Eventually. But it happened so suddenly. I tried everything: pen and ink, pencils, painting; they were all awful. I used to look at my old work and ask myself, 'How did I do that? I guess that's just what happens when you get old.'"
Luckily, a local doctor ran a standard thyroid test and found the problem - a malfunctioning thyroid was affecting his entire body. Once the proper medication was determined Frazetta returned to normal.
"The most wonderful and incredible thing is, the minute they got this thing adjusted, bang! It all came back in an instant. I never imagined that my skill would come back just as good as ever. That's crazy, but it shows that the brain is like a delicate computer and sometimes the circuits need a little soldering."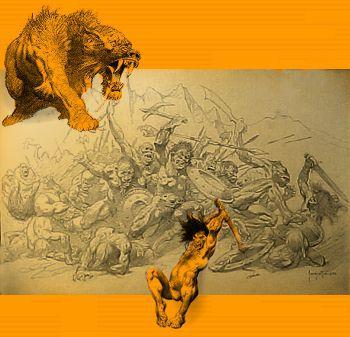 From 5-Cent Comics 5-Figure Auctions
Frazetta was offered the job of painting the cover to Battlefield Earth, written by L. Ron Hubbard. Strangely, the cover was rejected and another artist was used. However Author Services - the literary wing of the L. Ron Hubbard Empire commissioned Frazetta to do a large series of covers for many of Hubbard's novels. In addition, a range of lavish lithographs was done to accompany the publishing of the books. This was a lucrative assignment and it helped to get Frazetta back into the world of creative art.
By now, a new generation was exposed to the greatness of Frazetta. In the early 1990's Frank reemerged in to the market. He allowed a few of his originals to go under the hammer at Sotheby's and Christie's, where they sold for high five-figure sums.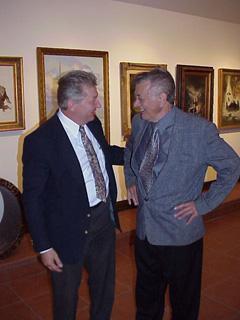 Rocking Out With The New Generation
The Princess and the Panther was an oil painting completed in 1990 and used on the cover of Heavy Metal magazine. This was followed by the Kitchen Sink publication of Small Wonders in 1991, a book featuring many of Frazetta's funny-animal drawings from the 1940's. It was closely followed by Pillow Book, a small collection (out of hundreds) of Frazetta's watercolors from many stages of his career. Most of these watercolors were personal pieces destined for gifting or simply done for amusement.
By the mid-90's interest in working with Frazetta had reached fever pitch. Randy Bowen convinced Frank to help him co-create a bronze sculpture of The Death Dealer. Rock legend, Glenn Danzig, had started a publishing company called Verotik. He commissioned Frank to produce a book of pencil drawings based on monsters and demons. It was entitled, Illustrations Arcanum, and immediately became a hit. Danzig followed this success with a series of Death Dealer comics, other assorted productions, and a new character Jaguar God. Danzig presented Frazetta to the new generation and they were hooked.
On May 10, 2010 Frank Frazetta suffered a fatal stroke. But thanks to the support of fans both old and new, Frank never truly left us. And for that, we are blessed.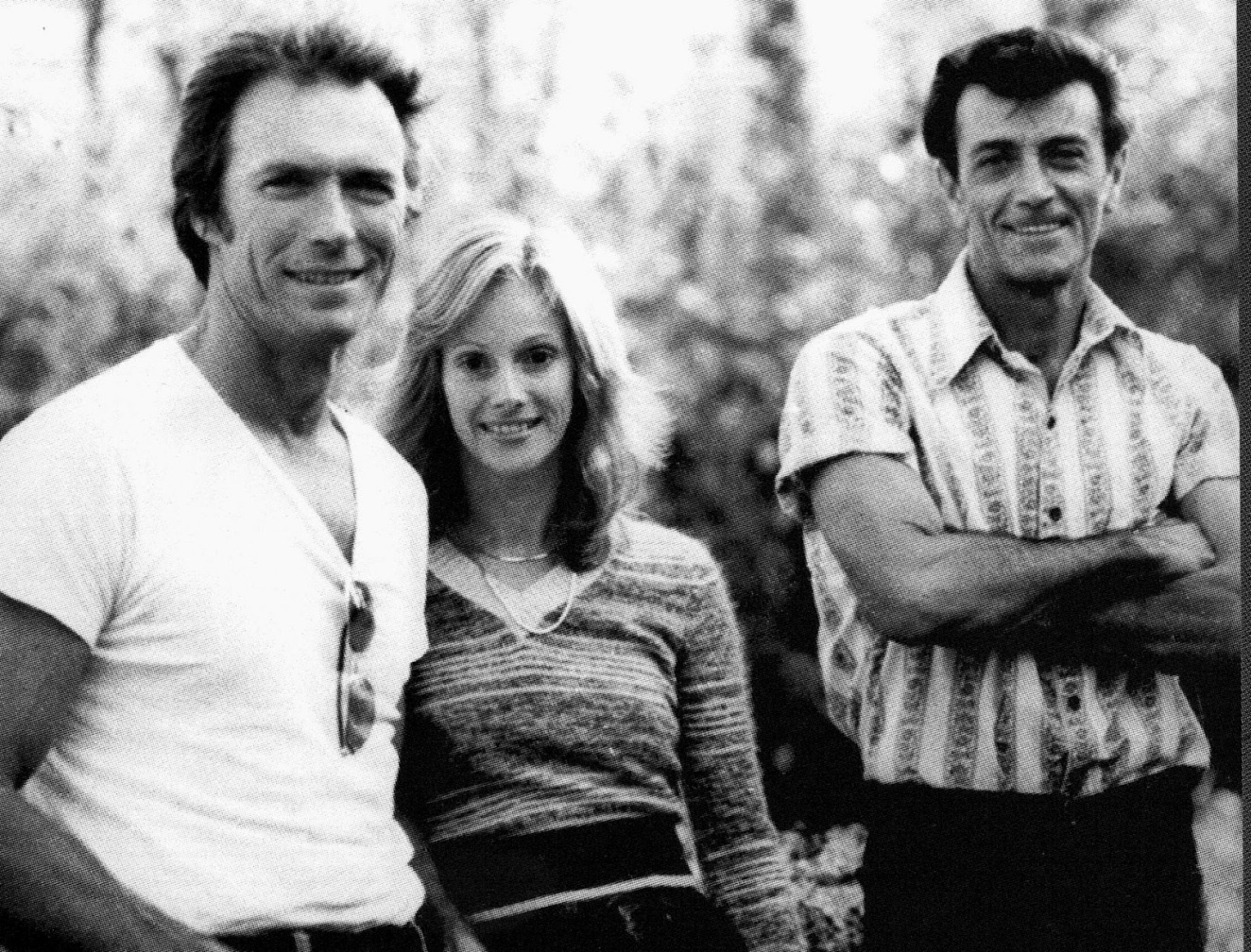 Hollywood celebrities are not strangers to the Frazetta Magic. Clint Eastwood visited Frank and commissioned him to do the poster art for his movie, "The Gauntlet". Sylvester Stallone (Rocky) would spend the day as well as George Lucas (Star Wars). Lucas is a big Frazetta fan and collector, owning two Frazetta originals in his collection at the time of writing. John and Bo Derek commissioned Frank to do their corporate logo, "Svengali."
Among other Hollywood names that have visited or contacted Frank are the likes of Francis Ford Copolla, Marlon Brando, Sandra Loche, Dino De Laurentiis, Tom Laughlin, Patrick Duffy, Charleton Heston, Arnold Schwarzenegger, Orson Welles, Cher, Dick Clark, to name a few. Metallica guitarist Kirk Hammett purchased a piece of Frazetta history at an auction for $1m. He joins countless other rock legends who are Frazetta Fans.
The Huntress - 1963
Frazetta was well known for his scantily clad women in distress, and powerful females exuding sexual energy and challenging power. Queens to witches, to warriors - Frank captured the female form in all its emotionally charged intensity. The Huntress painting is one of his most iconic women, depicting a powerful warrior commanding a pair of savage sabre toothed tigers.
Frazetta kept the painting free of background to concentrate the energy into a focal point of ferocity. Notice the sabre-toothed tiger with their expressive paws and faces. Frank's placement is alight with rhythm and dynamic symmetry that energizes the entire piece. It also exhibits narrative suggestiveness. Are the cats, allies or foes?
Frank knew how to capture warrior women with spectacular strength and clarity. Something very few artists could match. The Huntress is one of the most well known of his strong women. She unleashes raw feminine sexual energy and masculine power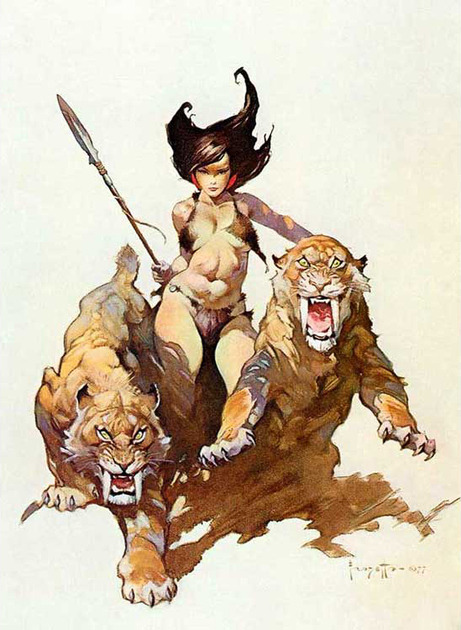 The Huntress was created as a cover for Edgar Rice Burroughs book Savage Pellucidar. Many ideas were presented including the female with her cats turning to see a pterodactyl overhead. A second concept shows two cats with a third in the background. A third concept focused on the female posterior, but was rejected as being too provocative.
On the final concept Frank says: "I really did love this painting. It's simplified with an interesting silhouette. Roy Krenkel used to call this a 'clump' but it does have a beautiful design and dynamic movement. The cats are nicely done. It is a nice idea and I think I pulled it off quite well".
Poised triumphantly upon the remains of his defeated enemies stands Conan. Without a doubt, this is Frazetta's most well known icon. With sword in hand he challenges adversaries to come forth and battle. He stands with unadulterated power, commanding respect. Here is a man who never met his match on the battlefield, hailing from a war-like people where only the fierce make it into adulthood, his muscles of corded iron developed in the hunt, the climbing of indomitable crags and incessant pitch battles to the death. This man does not have the cumbersome body of a bodybuilder, but rather the scarred and rock-hard development of the gladiator and the supple, yet explosive power of the panther. His face is dark and somber, reflecting the grim, windswept wastelands of his homeland. His mouth is set in a thin line, for he is under no illusions: life in the Hyborian world is short and violent and the only true solace a man of Conan's temperament can know is in the embrace of a yielding woman, the bloodlust of battle and the drunken stupor of bitter wine.
He carries swords and daggers of different races and lands which he would pillage one day and the next defend as mercenary for hire.
Frazetta's iconic Conan oil painting was completed in 1966 and was first featured as cover-art for a paperback reprinting of 1930's pulp fiction writer Robert. E. Howard's Conan the Adventurer story.
Conan The Barbarian - 1966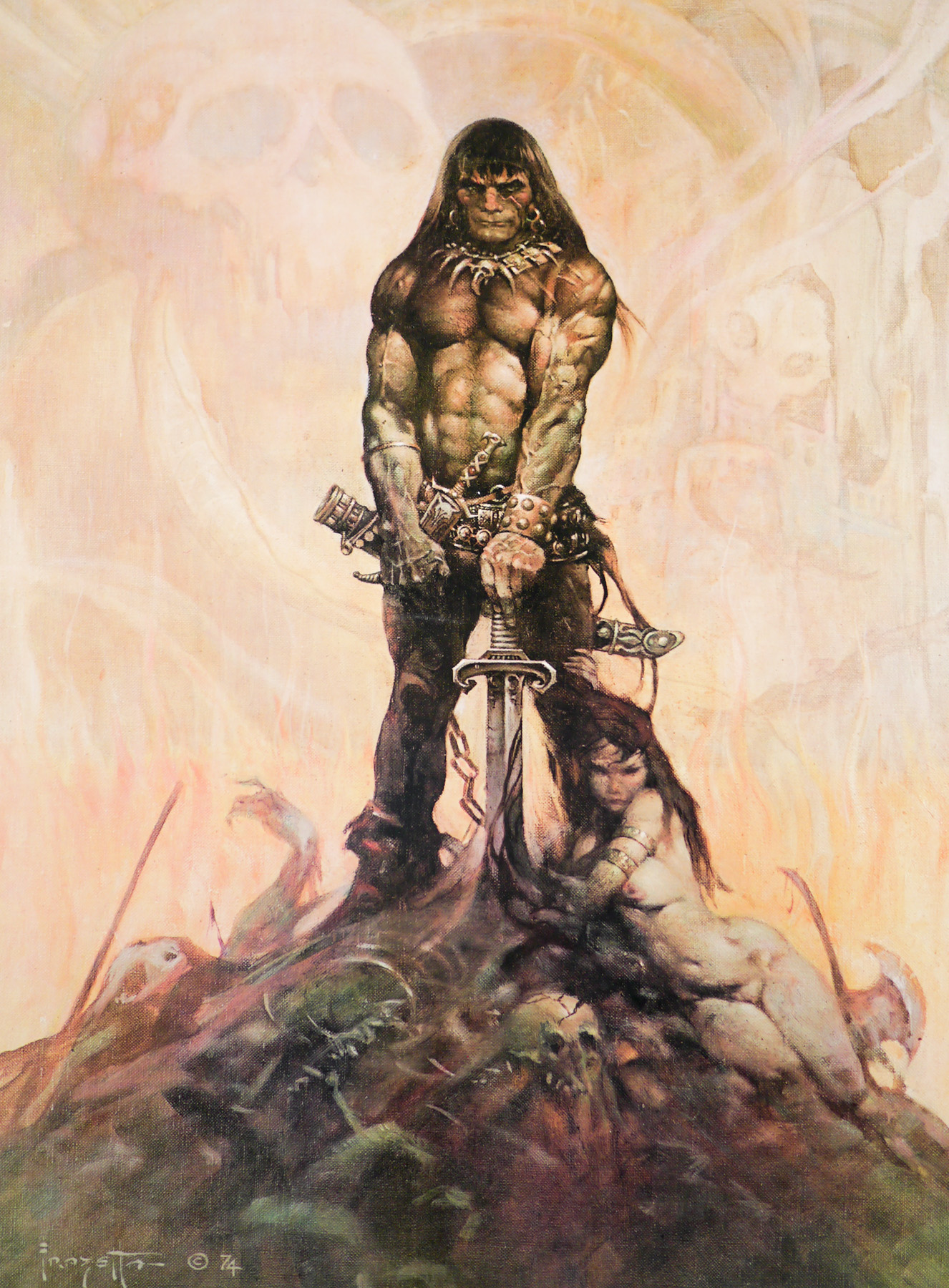 This artwork is considered the quintessential illustration of the Sword and Sorcery genre, and dramatically changed the way this most notorious barbarian would be depicted henceforth. Frazetta was the first to do justice to the true character and appearance of Conan.
Realizing that he had very little illustratable material to work with, Frank ignored the novel entirely and created a scene of carnage that summed up his feelings for the character. Dissatisfied with Conan's face and helmet in the version published on the paperback cover, he subsequently tinkered with the painting in his spare time over several months, polishing and improving it. Still sensing that something wasn't quite right, he decided to repaint the entire figure. Despite the dominant, dramatic pose, Frazetta felt that Conan was somehow separated from the surrounding action. His reworked version is more intimate and more personal, a more deadly depiction of combat.
Frank recalls, "I remember fans would approach me at conventions and say 'what a fabulous cover, I read the entire book waiting to read about the scene on the cover and never found it. So I read it again thinking I missed it, but no luck.'" With a smile, Frank states "Never judge a book by its cover."
Completed in 1969, Frazetta's sensual Egyptian Queen is arguably one of enigmatic works with the female form as focal point. Here, the curvaceous young queen is displayed on a dais as we enter her intimate moment of solitude. With the body of a goddess and unashamed sexuality, coupled with vulnerability and a childlike innocence she bares the gifts of the evolutionary Ace. The ability to wreak havoc with the two strongest male urges: procreation, and protection. Her soft, ivory white skin is contrasted with a stygian gloom. The malevolent darkness exaggerated by the Nubian warrior emerging from the shadows. The inclusion of the leopard and its feline grace only adds to the allure of overflowing female sexuality and sensuality. Admire her wistful gaze, regal headdress and flowing dress all captured in perfect detail.
Frank Frazetta on the Egyptian Queen:
"I'll never forget working on the '"Egyptian Queen.'" I got that whole thing done in about a day and a half, and I looked at it. It was done as far as I was concerned. Then I looked at her face and I didn't like it. So I started to repaint the face, and I painted the face, and I painted it again, and I painted it again. Well, I was like three days trying to get the right face. And I suddenly got sort of blinded to it. I just looked at it and didn't know where I was anymore. It was weird. Finally I just settled for any face and took it to Warren and they printed it that way and then I forgot about it. So a couple of months later I got it back - I was fresh again. And I just looked at it and Pow! I whacked in that face everybody is familiar with. When I got back, looked at it fresh, her face was painted in five minutes."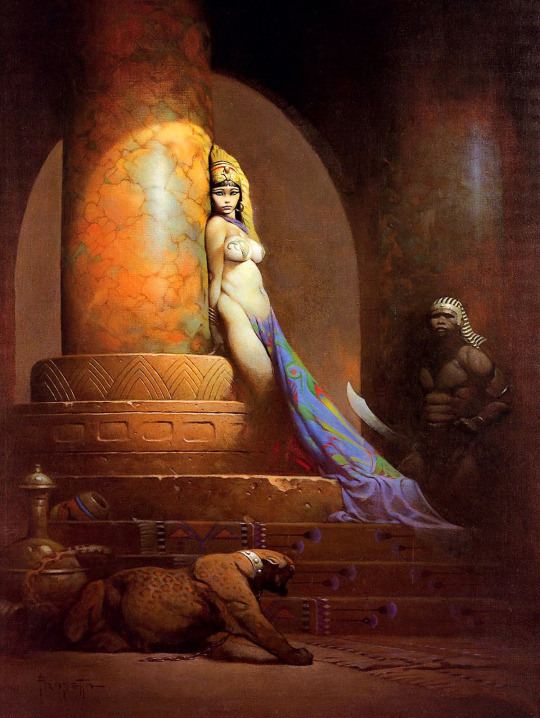 When Brad Steiger wrote his famous book Atlantis Rising in 1972, he demanded one legendary fantasy art picture for his cover. That was Frank Frazetta, and his Greek soldier, Atlantis.
But it was a painting that was nearly lost along with the city it depicted. Frank Frazetta Jr. was about 15 years old at the time and he tells the story. "I remember walking in to Dad's studio and was thrown in to disbelief. There was this Atlantis painting being painted over with white Jesso! 'Pop, what are you doing!', I gasped." Frank replied, "I didn't leave enough room for the reflection on the water."
Frank Jr. continues, "He didn't have any more canvas to paint on so I insisted I would run to the store and purchase him half a dozen sheets. 'Dad, just start taking the wet white paint off and I'll be right back.' I returned an hour later with his new canvas and proudly walked away with, as of today, my most cherished and sentimental item in my personal collection - the original Atlantis painting."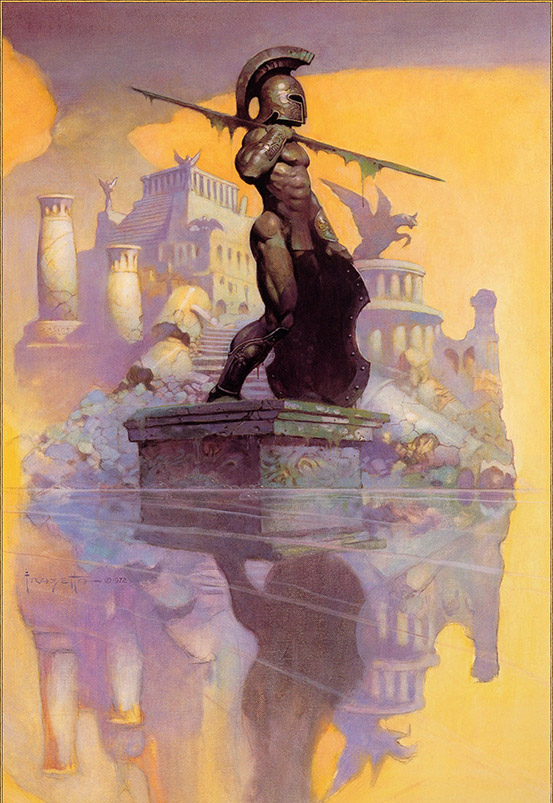 He is a foreboding phantom and undoubtedly one of Frazetta's greatest icons and the most recognized. Weary from protecting his lands, and from behind his horned helmet, the tortured soul - Gath, behind his horned helmet stands among the bones of his foes in a quiet moment of weary triumph. He rests atop his axe, bloodied from battle casting a menacing shadow over the bones of his foes. The painting presents a supernatural effect of foreboding terror and finality. Here is a man, brandishing an executioner's axe whose eyes burn like red embers through his horned helm as he stares balefully towards the viewer in an eerie and deathly silence.
This figure of imminent, unquenchable slaughter and destruction is mirrored by the grim wasteland he inhabits. To put it simply, the figure is death personified in its most macabre manifestation. No identity and no purpose apart from a dealer in death. The intricacy and exoticism of the figure's armor, apparel, sinister steed and weaponry tells us he has been dealing death in distant, foreign lands. All these elements combine to make this work unique in its psychological effect on the individual's imagination and innate fear of death.
Frank Frazetta painted The Death Dealer with oil in 1973; it was featured as cover art for the band Molly Hatchet. In 1985 The Death Dealer became the mascot for different military regiments in the USA. You'll find him as a full size steel replica standing outside the III Corps headquarters building in Fort Hood, Texas. He also features as mascot for the United States Marine Corps helicopter squadron HMMT-164.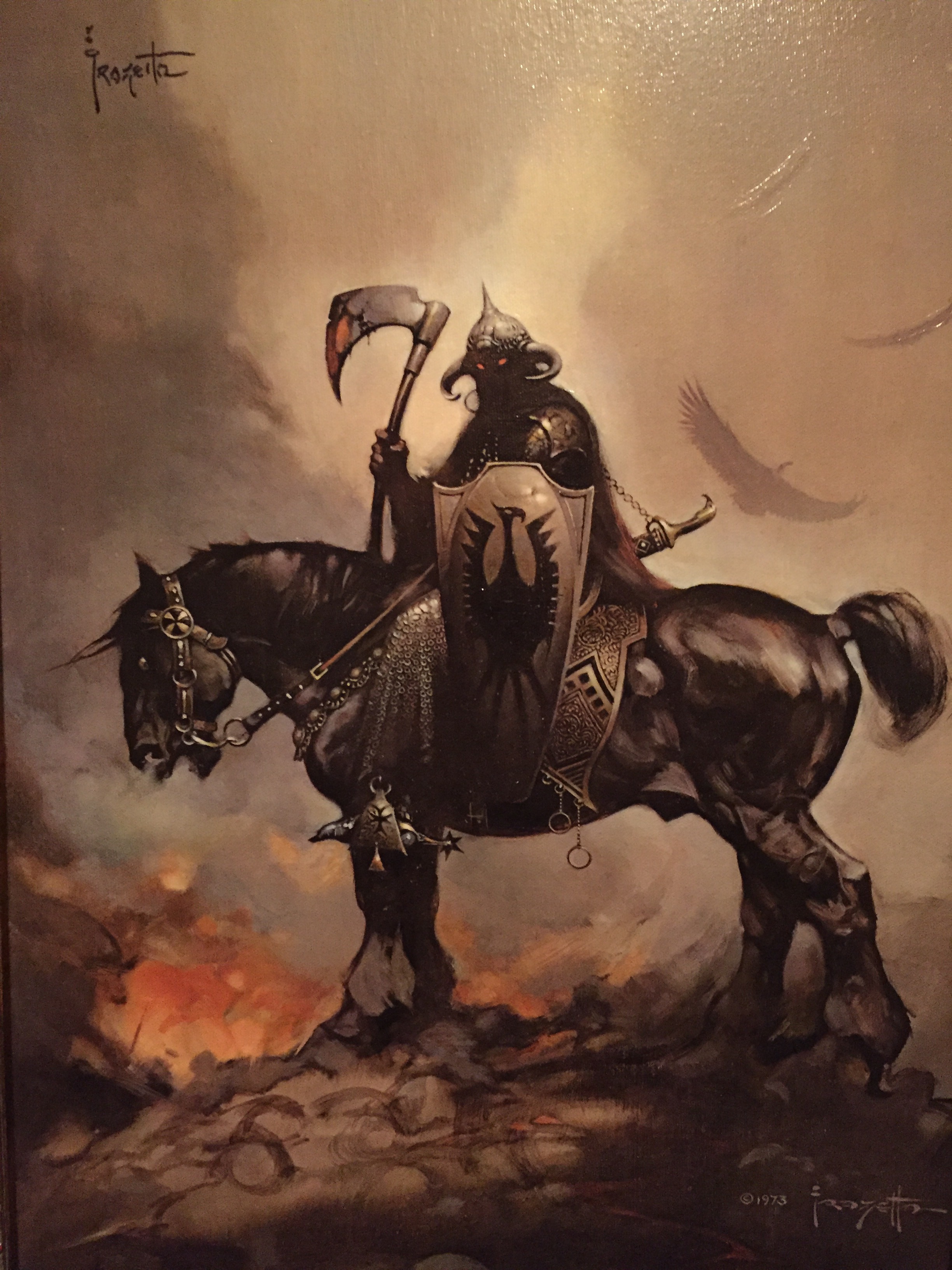 The Death Dealer has appeared in numerous comics. Frank created several versions of this brooding warrior: The Prisoner of The Horned Helmet and Lords of Destruction. The version you see here is the combination of both, otherwise known as Death Dealer 3 - Rise Of The Death Dealer.
But we can also thank Frazetta's critics for the Death Dealer we see today:
"When I painted "Death Dealer" and " Silver Warrior" back to back, I had been sitting on my laurels, just going through the motions. I could turn in a half-finished painting to an art director and they'd sing my praises; I didn't feel challenged. Then I became aware of a rumor going around that disturbed me – that I was washed up, that I hadn't done anything in years. My success was a fluke, just a matter of timing. These people who had been fawning all over me were suddenly chopping me up for dinner! In print! And I wanted to show them they didn't know anything, to let them see the old spirit. I think I needed that shot in the arm. I sat down and painted "Death Dealer,'" then "Silver Warrior" – bang! As good or better than anything I'd ever done. All of a sudden my critics got pretty quiet".
North of Iparsia, there is a land of frost known as Icevald. Akrila Sangrilak, the Silver Warrior, has watched over this land for decades. But now, Icevald is under attack by the Vikavian raiders. Who will save the people of this frozen tortured land? With sword in hand, and sled racing at breakneck speed, this Nordic Warrior careens through Icevald to protect his beloved homeland.
This world-renowned painting is a master-class in the use of composition as you see from the sun-flare on his sword to the intricate embellishments on his armor and relief work on his sled. Notice the subtle ice caps looming in the midst, and the brilliance of the blue sky with its exquisite cloud formations.
The Silver Warrior is as bitterly cold as the wastelands he inhabits. He is faceless, elemental, and every bit as wild as the polar bears pulling his sled. It's as though these fierce beasts with their personalities combined are a manifestation of his frozen interior. Notice the tone and its use of cold, glacial colors ranging from grey to volcanic blue and to the purest white. The painting pops with a stark and unforgiving beauty, just like the landscape it portrays.
The whole scene sits in perfect balance. And just like The Death Dealer, Frazetta harvested the energy of his critics as fuel to produce this all-time fan favorite.
One of the main reasons for the painting's lasting popularity, sits upon a more basic, almost childlike level, where we have this juvenile fascination with the concept of having our sled pulled by polar bears and the fantasy of supreme power that picture invokes.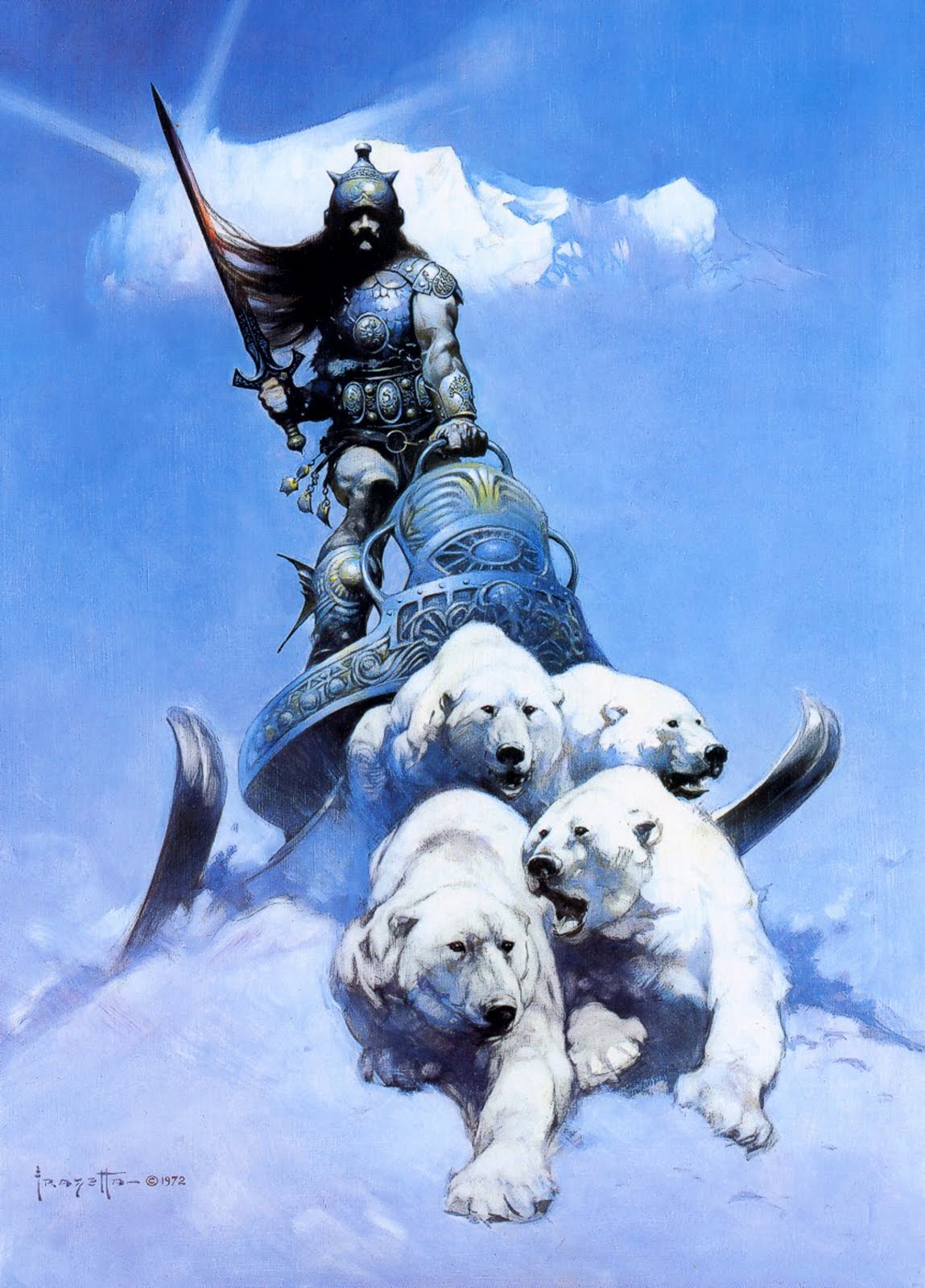 "I want to do something that nobody has done before me. And I want to do it in such a way that nobody will forget me." – Frank Frazetta, 1928-2010
---
Sorry, there are no products in this collection.